Workshop: Compatibilist Libertarianism: Advantages and Challenges (October 29, 2021)
Idea & Motivation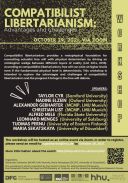 Compatibilist libertarianism is a new promising approach in the free will debate. The account was developed by List (2014, 2019) who proposed it as a position in the tradition of authors such as Dennett (2003), Kenny (1978), and Taylor and Dennett (2002). One of its many merits is its compatibility with the scientific worldview. Its commitment to non-reductive physicalism allows it to provide a metaphysical foundation for reconciling actualist free will with physical determinism by driving an ontological wedge between different layers of reality. Because higher levels are identified as the natural habitat for free will, the agent can have autonomy at higher levels even if the fundamental physical level is deterministic. This workshop is intended to explore the advantages of compatibilist libertarianism and the progress it brings to the free will debate. Possible objections and open problems will also be considered, as well as new ways to further develop the position in order to overcome these issues.
Speakers
Registration
The workshop will be hosted as an online event via Zoom. In order to register, please send an email to a.gebharter@lmu.de by October 26, 2021.
Organizers
Acknowledgement
The workshop is organised by the Munich Center for Mathematical Philosophy in collaboration with the Düsseldorf Center for Logic and Philosophy of Science and the Inductive Metaphysics research group.
Program
Abstracts
Taylor Cyr (Samford University): No Easy Compatibilism
Traditional compatibilists respond to the Consequence Argument by denying
either the fixity of the past or by denying the fixity of the laws, neither of which option is
without theoretical cost. Recently, however, several authors—Christian List (2019b), Scott
Sehon (2016), and Ned Markosian (2012)—have introduced novel approaches to free will
that, they claim, imply that determinism is no threat to free will and, thus, that free will and
determinism turn out to be compatible. The strategies employed by these authors differ
considerably, with one influenced by psychology and decision theory, another by traditional
philosophy of action, and the other by the metaphysics of causation. Nevertheless, this
paper aims to show, first, that these approaches share a common thread and, second, that
each implicitly require us to give up either the fixity of the past or the fixity of the laws (but
without making this explicit or explaining how their views are preferable to traditional
compatibilist views with respect to giving up the fixity of the past/laws). This paper concludes
with an important lesson that may be learned from our survey of these novel and interesting,
even if ultimately unsuccessful, approaches to compatibilism.top
Nadine Elzein (University of Oxford): Levels, Responsibility, and Luck
Mele argues that List's view suffers a problem of present luck, like other libertarian
accounts. However, List's work also shows that determinants of behaviour may be irrelevant
to an agent's reasons. Given this, traditional compatibilists may also have a luck problem.
Mele supposes that libertarians (traditional or emergentist) endorse a freedom-undermining
condition, whereas traditional compatibilists do not. But this rests on his claim that
responsible choices must be fixed by features of the agent's character. However, I argue that
this condition itself may introduce a threat to responsibility, since it often requires
determinants that are irrelevant treasons.top
Alexander Gebharter (MCMP): Probabilistic Supervenience and Agential Possibilities
Compatibilist libertarianism proposes a new solution to the problem of an
apparent incompatibility of free will and determinism. It drives a wedge between ontological
levels and claims that free will is possible as a higher-level phenomenon even if the
fundamental physical level is governed by determinism. After highlighting an inconsistency in
the current version of compatibilist libertarianism, we discuss how one of its essential
metaphysical assumptions (in particular: supervenience) can be modified in order to avoid
this problem. Finally, we discuss the pros and cons of pushing the position to the limits in
this way.top
Christian List (MCMP): Compatibilist Libertarianism
In this talk, I will give an overview of what I take to be the compatibilist libertarian view on free will. I will begin by summarizing some of the main scientifically motivated challenges for free will and will respond to them by presenting a naturalistic indispensability argument for free will. The argument supports the reality of free will as an emergent higher-level phenomenon. I will explain why the resulting picture of free will does not conflict with the possibility that the fundamental laws of nature are deterministic and why it is nonetheless libertarian in an important respect. A background paper is available at: http://christianlist.net/NFW.pdftop
Alfred Mele (Florida State University): Revisiting Free Will and Luck: Compatibilism vs. Incompatibilism
Compatibilists about free will maintain that free will is compatible with
determinism, and incompatibilists disagree. Incompatibilist believers in free will have been
challenged to solve a problem that luck poses for them – the problem of present luck. This
article articulates that challenge and then explores a novel compatibilist view recently
proposed by Christian List. It is argued that List's view, unlike standard compatibilist views,
faces a very similar problem about luck.top
Leonhard Menges (University of Salzburg): A Missing Premise in List's Top-Down Argument For Free Will
The Top-Down Argument for free will aims at establishing that humans can do
otherwise in the sense that it is relevant for debates about free will. It starts by saying that
we always need to answer the question of whether some entity (such as the ability to do
otherwise) exists by consulting our best scientific theories of the domain at issue. It proceeds
by showing that our best scientific theories of human action presuppose that humans can do
otherwise. In this talk, I will argue that this is not enough to establish the conclusion. The
Top-Down Argument supports that humans can do otherwise in some sense. But it does not
show that humans can do otherwise in the sense that is relevant for debates about free will.top
Tuomas Pernu (University of Eastern Finland): Is Supervenient Free Will Compatible with Non-Reductive Physicalism?
TBAtop
Maria Sekatskaya (DCLPS, HHU Düsseldorf): Supervenient Fixity and Agential Possibilities
Compatibilist libertarianism (CL) has been proposed as an actualist position
intended to reconcile physical determinism and an agent's ability to do otherwise. In its
current form, CL faces two serious objections: the collapse problem and the luck problem.
We will show that these objections to CL can be avoided if CL is interpreted as a variant of
classical compatibilism rather than a version of libertarianism. We will also argue that a
slightly modified version of CL is as close to an actualist account of free will in a deterministic
world as one can hope for.top